We're sure that most of our drivers in the East Stroudsburg, Stroudsburg, Bethlehem, Easton and Jim Thorpe areas know that tires are vital to a vehicle's performance. However, tires can wear down enough to where the act of gripping the road while in motion becomes less effective. There are many ways to ensure that your tires last for as long as possible, so at Ray Price Honda, we're here to give you the important details on tire rotations.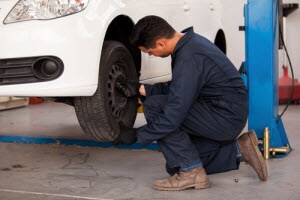 You'll learn why your tires get rotated, how they get rotated, and even ways to see if your tires are wearing down. We hope our drivers learn enough so they know the best time to get their tires rotated with us at Ray Price Honda. Are you ready for tire rotation 101?
Related Posts:
Why Get Your Tires Rotated?
The first lesson in tire rotation 101 is understanding why your tires need to be rotated. 
Your tires are made from rubber, and when they're constantly rubbing against the road, it can start to chafe and wear the rubber away. 
Not only can this have an effect on your actual tires, but more significantly, it can affect the tread. 
Your tread is responsible for keeping your traction. 
Whether you're driving on a sunny road or navigating a snow storm, your tread is responsible for making sure your tires don't lose their grip and the vehicle doesn't stray from its intended path.
Tires can be a bit expensive, and having them wear down quickly isn't ideal for anybody-that's why tires get rotated. This helps even out their wear, as some tires take more of the brunt of the road and the weight of the car than others. By shifting your tires around from their positions, you can postpone the tire replacement and get the most out of your current tires.
How to do a Tire Rotation?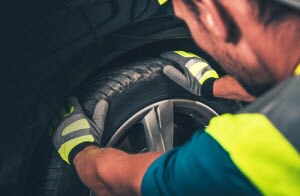 There are specific methods of how to do a tire rotation to help keep your tires lasting as long as possible, but it all depends on your vehicle's drivetrain. 
Front-wheel drive vehicles have their front tires moved to the back and their rear tires placed in the front diagonally to their current position. 
Front-wheel drive alternative cars have each of their tires placed diagonal to their position (i.e. front left goes to rear right). 
Rear-wheel drive and all-wheel drive vehicles have their rear tires moved up to the front while the front right tire goes to the rear left and the front left tire goes to the right in the rear.
Ways to Tell If Your Tires Are Wearing Down
There are several ways that you can tell that your tires are wearing down that are easy to look out for. 
If you notice excessive vibration when you're driving, there's a good chance it's your tires that's making your car shake. 
It's always good to do a visual check of your tires on occasion. Look at each tire for signs of wear, as well as any cracks or bulges that indicate that the tire is on its way out.
You can even perform your own tread test for the price of a penny, but don't worry-you can keep the penny. Take the penny and place it upside down in the tread. If you can't see the top of Lincoln's head, your tires have a suitable amount of tread left. However, if you can see the space above Lincoln's head, you may want to consider seeking out a replacement.
Having Your Tires Rotated near Stroudsburg, PA 
Tire rotations are the best way to postpone that new tire purchase while ensuring you're getting your money's worth on your current set. You can get your tires rotated periodically, even each time you get your oil changed. However, when the time comes that you need to rotate tires, you can always give us a call at Ray Price Honda. Visit our Honda-authorized tire center online for more information on your vehicles tires.
We hope that our Tire Rotation 101 has helped you learn all about the best ways to check your tires, as well as how they need to be rotated. At Ray Price Honda, we're proud to offer our tire services to drivers in the East Stroudsburg, Stroudsburg, Bethlehem, Easton and Jim Thorpe areas.