With winter swiftly approaching, you should consider outfitting your vehicle in preparation for the colder temperatures and harsher weather conditions. The snowfall in East Stroudsburg, Stroudsburg, Bethlehem, Easton and Jim Thorpe areas can be heavy, so you need to make sure your vehicle has the proper tires.
When choosing tires for the winter, there are two main options you can go with. You can either get all season tires or winter tires. As the names would suggest, all season tires are good year round while winter tires are specifically designed for traversing wintery conditions. Learn the differences between winter tires vs all season, and discover which option is right for your vehicle.
All Season Tires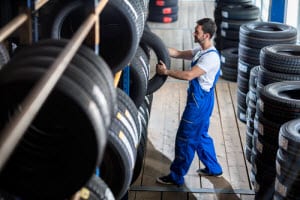 All season tires are probably the most popular type of tire on the market. These conveniently designed tires are not only good for pretty much any kind of weather you'll experience year round, they don't make much noise, have a long tread life and can even help your fuel economy. This versatility has made them an ideal choice even for some manufacturers who sometimes advertise their newest models as featuring all season tires standard.
This versatility comes with a price, however. They're not a culmination of the best parts of seasonal tires. They do everything adequately, but don't really excel anywhere. In the winter, all season tires are typically suited only to handle light snow and slush. If the snow gets heavy, these tires won't cut it.
Winter Tires
During the winter, traction is the most important part of your tire. With snow and black ice to contend with, it's doubly important that your tires have the right grip. Winter tires are specifically designed to maintain grip even through ice and snow. Other tires including all season tires will stiffen when the temperature drops because that's how rubber reacts to cold. However, the rubber in winter tires remains flexible.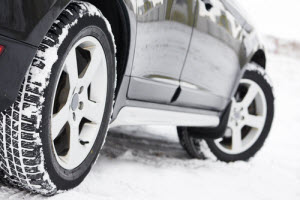 The material is just the first step, however. Winter tires also feature tread patterns designed to carve through ice and snow. Water flows through the specially designed patterns and is expelled safely to the side, eliminating the unsafe liquid barrier between the tire and the road that forms when you lose traction. Winter tires also feature biting edges or tiny slits on the side of the tread to cut up the snow and ice as you go over it so you maintain traction.
Winter Tires vs All Season: Which is Best?
The winner between winter tires vs all season largely depends on what you need. For drivers in the East Stroudsburg, Stroudsburg, Bethlehem, Easton and Jim Thorpe areas, it may be better to go with winter tires. Snowfall in Pennsylvania can be bad, so winter tires will get you through. However, if you already have all season tires and don't want to buy more tires, you might be okay.
While not as efficient as winter tires, all season tires can still perform in light winter conditions. If you limit your driving to well maintained roads such as those in metropolitan areas, all season tires will serve you just fine. Just be careful if you come across any roads that don't get much traffic.
Get Your Tires at Ray Price Honda
If you decide you want to equip your vehicle with winter tires or all-season tires, come down to the tire center at Ray Price Honda. We have the top brands available including Bridgestone's Blizzak winter tires. If you find 4 in-stock tires at a cheaper price somewhere else, we'll match it with our tire price match guarantee. Stop by or give us a call to schedule your tire service today!