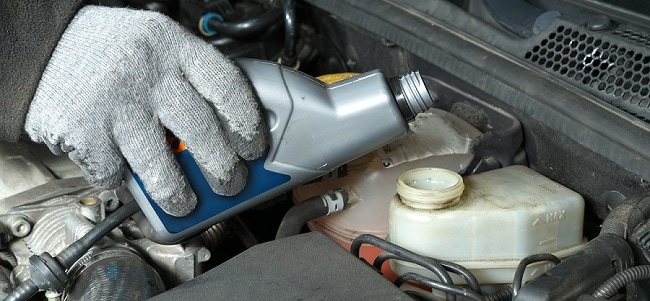 When does brake fluid need to be changed? 
The brakes are one of the most important parts of a vehicle, as they're the driving force behind an accident prevention. An important component of the braking system is brake fluid, which should get changed to help keep the system working properly.
To determine when brake fluid needs to get changed, our team created this guide for drivers throughout East Stroudsburg, Stroudsburg, Bethlehem, Easton and Jim Thorpe. Read through it below and contact us at Ray Price Honda Service Center if you have any questions.
Related Resources:
Importance of Brake Fluid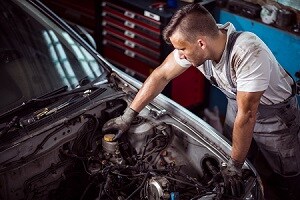 Honda brake fluid plays a critical role in a car's braking system. 
It transfers the force created by a driver pressing down a brake pedal, causing heat.
Heat that's generated under heavier or prolonged braking may affect the brake fluid. 
This fluid can only work when it's in a liquid state. 
If it becomes too hot and forms vapor bubbles, it could cause brake failure.
Brake fluid also lubricates all the moving parts of the braking system and prevents corrosion. 
By keeping the rubber seals and hoses loosened up, the braking system will have optimal performance for a long time.
Is It Time for a Brake Fluid Change?
Even though brake fluid lives in a sealed system, it can still absorb moisture over time. This would lead to corrosion in the brake system and lines. Moisture would also lower the boiling point of the fluid. So the purpose of brake fluid is to make sure the car's brake pedal is effective and doesn't lead to complete brake failure.
That's why it's important to get it changed, but how often should that be? 
That all depends on what kind of car you drive. Some manufacturers say it should be replaced every two or three years; some call for four or five years, or even longer; and some don't recommend replacing it, but simply inspect it periodically.
The frequency of a brake fluid inspection could depend on where you live. It's often recommended to get it no more than every five years in a high-humidity area. If you live somewhere with regular winter weather, then it should get looked at more frequently, as salt and other contaminants can get into the brake fluid.
The best way to know when to get brake fluid inspected and changed it to check your owner's manual. However, there are some signs you could look out for to determine a brake fluid replacement...
What Are the Signs that Brake Fluid Needs to be Changed?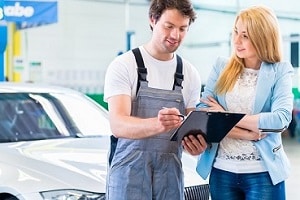 Brake fluid is often a light clear-ish brown in color. 
Over time, it'll darken and become murky from water contamination. 
Whenever you get an oil change, have the service technician check the brake fluid to see if the color has turned a rust shade. 
If so, then it might need to get replaced.
If the brake fluid has turned black or has a burnt smell, then there might be a serious issue with the braking system. If it's below the recommended level, then there could be a leak. Either way, you'll need to get it looked at by a mechanic as soon as possible.
Schedule Brake Fluid Service
Replacing brake fluid is cheaper and easier to do than replacing brake pads, calipers, or rotors. So, before a minor issue becomes a major problem, schedule service at Ray Price Honda and we'll give you an estimate of brake fluid price.
Our certified technicians have years of experience working with brake fluid on cars throughout Phillipsburg and Nazareth. As a result, they can determine if your car's braking system needs a fluid replacement.
If you're looking for Honda brake services around East Stroudsburg, Stroudsburg, Bethlehem, Easton and Jim Thorpe, then contact us today!