If you're in the market for a reliable used truck, car, or SUV near the Lehigh Valley area, your search ends with Ray Price Honda! We offer a huge selection of new and used cars in a variety of makes, models, and years. Learn more about our Lehigh Valley Used Car dealership.
Used Car Inventory at Ray Price Honda
At Ray Price Honda, we have a long history of providing our local Lehigh Valley customers with excellent service and competitively priced, quality used cars. From the moment you arrive at our dealership, you'll notice our warm and inviting atmosphere and our friendly, helpful sales team. We're here for you, which is why we give you the time and attention it takes to find the best used car for your driving needs.
Whether you're looking for a tough truck for your work, a sporty ride to cruise the streets, or anything in between, we're sure that we can find something that's perfect for your needs and budget. As a trusted used car dealer in the area, we've helped many customers get behind the wheel of their dream car, and we can do the same for you!
Related Post: Used Honda CR-V Lehigh Valley, PA
Used Car Financing
Ray Price Honda is a full-service used car dealer, so we offer competitive finance options to ensure that you get the best deal possible. You're already saving money by buying a used car, but our expert financial team can help you get even more value from your purchase. We'll work with you to find the best rate for your used car, so you can feel secure and confident about your decision.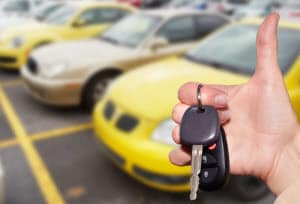 Regardless of your credit circumstances, we're sure that we can find an excellent financing option for you, and we have such a variety of used vehicles for you to choose from, you can find an arrangement that's the best fit for your situation.
Used Car Service and Maintenance
We're a reputable used car dealer, so we take pride in the reliability and safety of our used cars. That said, the best way to ensure that your used car, truck, crossover, or SUV runs its best for many years is by keeping up with its routine service and maintenance.
Working for a used car dealer, our service technicians at Ray Price Honda have extensive experience with the maintenance needs of used vehicles. They also have access to the best tools and equipment to get the job done as well as the training and expertise to offer advice on your used car's maintenance.
Schedule a service appointment with the expert auto technicians at your local Honda service center in Stroudsburg, PA.
Visit Ray Price Honda, Your Local Used Car Dealer near Lehigh Valley, PA
If you're searching for a used car dealer near Lehigh Valley, PA, to find, finance, or service a used truck, car, or SUV, stop by Ray Price Honda to see how we can help! We pride ourselves on our dedication and commitment to our local customers, which is why we're the best choice in the area for all your driving needs. Call or visit us today!