The Honda CR-V and the Toyota RAV4 are direct competitors in the growing class of compact crossovers popular in the Jim Thorpe and Easton areas. They have many similarities, but there are some differences that separate the two.
So, how do you choose between these SUVs? Drivers in East Stroudsburg, Bethlehem, and Stroudsburg can discover the subtle differences between these two compact crossovers with our CR-V vs. RAV4 side-by-side comparison.
Related Posts:
CR-V vs RAV4: Design & Style

Practical doesn't have to be boring, which is why the CR-V equipped some unique styling into its overall package.
Subtle differences between the trim levels exist, but all share the same sculpted bumper, black plastic and chrome split on the grille, and wraparound headlights. The Honda CR-V profile is smooth and sleek, and the back end rounds out the design with high-mounted taillights.
Looking at the Toyota RAV4, we find a similar design philosophy, but it lacks the same boldness we see in the Honda CR-V. Here, we don't see the same high-mounted rear taillights. Instead, they're fairly standard taillights sitting squarely along the center of the back end. The RAV4 is stylish but it doesn't quite take it a step further like the CR-V does.
Honda CR-V vs Toyota RAV4: Seating Comfort
 

Honda CR-V

 

vs

 

Toyota RAV4

 

41.3 inches

 

Front Legroom

 

41 inches

40.4 inches

Rear Legroom

37.8 inches

75.8 cubic feet

Max Cargo Volume

69.8 cubic feet

28 city/34 highway

Miles per Gallon

26 city/35 highway

12-way power-adjustable

Driver's Seat

8-way power adjustable
In addition to focusing on practicality, the designers of the CR-V put effort into its passenger comfort and cargo space. The higher CR-V trims include a 12-way power-adjustable driver's seat, upscale leather trimming, and many technology or convenience options. The seats are well-padded and supportive, and passengers are given enough headroom and legroom to truly relax on long trips.
The Toyota RAV4 also offers quite a bit of added comfort to the table with available leather-trimmed seats that add style and comfort. However, unlike the Honda CR-V, the Toyota RAV4 only offers an available 8-way power adjustable driver's seat. While you'll enjoy a good amount of comfort in this vehicle, the CR-V is much better for your back in the long run.
Additional Comfort Features
Beyond seating, the Honda CR-V and the Toyota RAV4 both offer some impressive comfort features that help make your driving experience more enjoyable. These systems can even make staying comfortable while driving feel more convenient.
For example, take the dual-zone automatic climate control systems available with both vehicles. If you prefer a cooler cabin, while your front-seat passenger likes it a bit warmer, this system will maintain two separate climates to keep all occupants comfortable.
The Honda CR-V provides a bit more comfort, though, with its standard Active Noise Cancellation™ system. This technology actually works to counteract the flow of road noise into the cabin, so you can relax in an exceptionally calm cabin. While both vehicles will keep you nice and cool, only the CR-V will make sure you drive without disturbances.
Fuel-Conscious Technology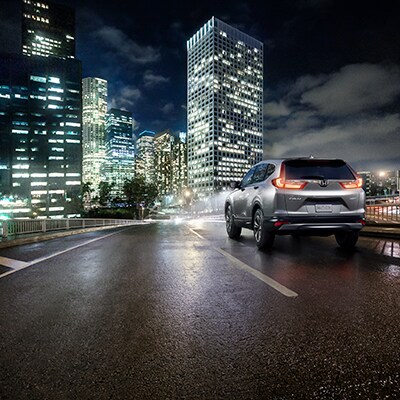 We all want to conserve fuel, whether it's so we can reduce our carbon footprint or reduce how much we fuel up. Therefore, it's important to improve our fuel economy. Luckily, both vehicles are designed with a multitude of features to ensure your gas consumption is minimal.
At the heart of it all, the Honda CR-V and Toyota RAV4 offer available Continuously Variable Transmission (CVT) systems. This enhanced transmission does away with gears to provide a spectrum of shift points. The result is that you're always using the best shift point for the given situation, so you're never using more fuel than is necessary.
The Honda CR-V doesn't just design itself to use less fuel-it's also specifically built to foster better driving habits, so you don't use up too much gas. The standard Eco Assist™ System monitors your driving habits for fuel-friendly driving practices. When you're using less fuel, the ring around your speedometer will glow green.
Interior Dimensions
Nobody wants to feel cramped inside a small cabin while traveling on a long trip, which is why these vehicles are designed with plenty of interior volume. Inside the Toyota RAV4, you'll have as much as 41 inches of front legroom and 37.8 inches of rear legroom. With its roomy legroom, you and your passengers will have plenty of space to relax and stretch your legs.
As we move inside the Honda CR-V, though, we find a bit more space that's sure to make everyone feel nice and cozy. You and your front passenger will have a front legroom of 41.3 inches but your rear passengers will be very happy to have up to 40.4 inches of rear legroom available to them. If you spend a lot of time traveling with passengers, this SUV may be the right choice for you.
Available Cargo Space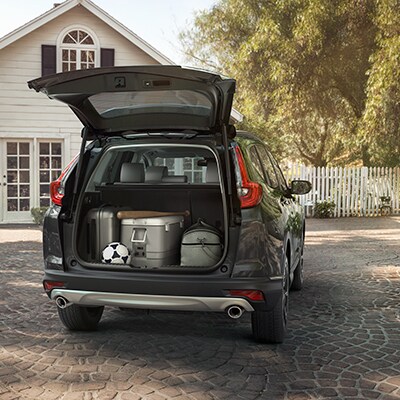 Another main perk of driving an SUV? The spacious cargo area! Both the Honda CR-V and the Toyota RAV4 are designed with standard 60/40 split fold seats. These seats make it easy to expand your cargo volume on the fly so packing for a trip is a breeze.
Inside the Toyota RAV4, you'll have a standard cargo volume of 37.6 cubic feet behind the second row of seats. For more space, you only need to fold the second row of seats down for up to 69.8 cubic feet of space.
However, the Honda CR-V delivers a bit more space with 39.2 cubic feet behind the second row. By folding down the second row, you'll have up to 75.8 cubic feet of volume behind the first row. If you're looking to get as much cargo volume as possible, you may want to look towards this SUV.
Should I Buy a Honda CR-V or a Toyota RAV4?
While the Toyota RAV4 provides plenty of great amenities and interior space, the Honda CR-V offers more in terms of comfort and convenience. The 2019 Honda CR-V is just what Jim Thorpe and Easton drivers need when going on adventures.
Drivers in the Stroudsburg, East Stroudsburg, and Bethlehem areas can explore the Honda CR-V for themselves by visiting Ray Price Honda to schedule a test drive. Call or visit us today!