For people with large families, a vehicle's style often takes a backseat to its function and practicality. Despite their stigma, minivans have plenty to offer, including extra cargo space, entertainment suites and advanced safety features. Unlike the boxy, boring minivans of the past, though, modern minivans have improved design and features, as well as the utilitarian appeal that made them the go-to car for parents in the first place.
With these new options in mind, we've taken a closer look at the Honda Odyssey and the  Toyota Sienna. For drivers in the East Stroudsburg, Stroudsburg, Bethlehem, Easton and Jim Thorpe areas, read on to learn more about which minivan best suits your needs.
Honda Odyssey vs. Toyota Sienna: Exterior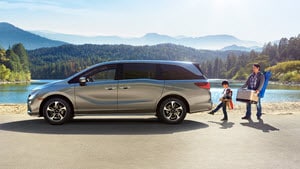 Minivans aren't exactly known for their style and design, but the Honda Odyssey van sports a sleek, front-end profile, while the Toyota Sienna's blocky design is showing its age. The redesigned Honda Odyssey is flashier, including a stylish, symmetrical curve indentation that runs along each side, with chrome that's concentrated to the headlights and front grill, as well as a spoiler that enhances the rear roofline. Gone are the days of the bulky, panel van aesthetic.
After seven years without a redesign, the Toyota Sienna can hardly boast the same appeal. Its aged form does little to disguise its minivan look. In contrast, the Odyssey's sporty appeal and modern sensibility are sure be eye-catching. Without its much-needed update, the Toyota Sienna's simply pales in comparison. 
Honda Odyssey vs. Toyota Sienna: Interior
While both vehicles offer attractive and comfortable interiors, that's not the selling point of a minivan. Spacious is the key here, and the Honda Odyssey is more than roomy. Seven adults can be seated comfortably inside, which is a feat that most SUVs can't even achieve.
Add in comfortable, bolstered seats with heating and cooling capabilities, a second-row step-in and removable or shifting second-row seats for maximum convenience, and the Odyssey only continues to impress. The Odyssey also has over a dozen cup holders and tons of storage throughout, as well as a premium infotainment system that's customizable and easy to navigate.
Unfortunately, the Toyota Sienna's offers little to compete, with no heating in the second row, no ventilation in the front, no onboard WI-FI and outdated safety features. That said, the Toyota Sienna still offers the convenience expected of a minivan.
Honda Odyssey vs. Toyota Sienna:
Performance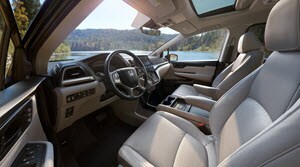 In terms of performance, the Honda Odyssey and Toyota Sienna are well matched. The Odyssey is equipped with a 3.5-liter, 280-horsepower V6, leaving it light on its feet for its 4,000 pounds. It also comes with safety features like adaptive cruise control, lane-keep assist, lane-departure warning and emergency braking.
The Toyota Sienna is similar, with a 3.6-liter, 296-horsepower V-6, and a 4,450-pound curb weight. However, changes to its throttle response to accommodate rough roads make the throttle inconsistent and heavy.
Visit Ray Price Honda for a Test Drive
Regardless of their similarities, the Toyota Sienna's outdated design and minimal options can't compete with the revamped style and advanced features offered by the Honda Odyssey.
East Stroudsburg, Stroudsburg, Bethlehem, Easton and Jim Thorpe drivers can experience the difference firsthand by visiting Ray Price Honda today to schedule a test drive of the Honda Odyssey. We look forward to serving you!