If you're looking for a reliable vehicle to help you get around East Stroudsburg, Stroudsburg, Bethlehem, Easton and Jim Thorpe in comfort and style, there's almost no better choice than the Honda Odyssey. 
However, even the most dependable models run into problems from time to time, which is why the Odyssey features a variety of dashboard lights.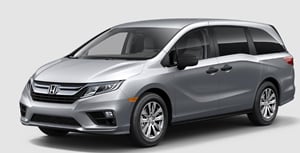 The dashboard lights on the Honda Odyssey will alert you if there is an issue with your vehicle, and will help you decide if and when you need to schedule service. 
Read this Honda Odyssey dashboard symbols guide to learn a little more about the warning lights you might see while driving your vehicle.
Red Malfunction Warning Lights
Your Odyssey features two types of malfunction warning lights: red and yellow. As you might expect, the red warning lights are the most serious and deserve immediate attention from a repair professional. 
A few red malfunction warning lights you may see on the Odyssey include:

Brake

: if you see the word BRAKE light up on your dashboard, it means that your brake fluid is low, or that your braking system has malfunctioned and needs a maintenance check right away.

Oil Pressure

: When the oil pressure in your Odyssey dips too low, you will see a light that looks like an oil lamp dripping oil. Have your vehicle checked by your dealer after this light activates.

Battery System

: A light that looks like a car battery with plus and minus symbols means that your car's charging system is not working.

Supplemental Restraint

: If you see a light that looks like an airbag deployed in front of a car passenger, it means that your vehicle's supplemental restraint system is inactive.
Yellow Malfunction Warning Lights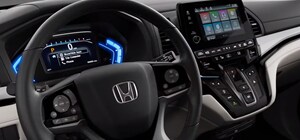 While driving your Honda Odyssey, you may also see yellow malfunction warning lights. Although these lights will still need to be addressed by a repair professional, they are usually not as serious as red lights. 
Common Honda Odyssey yellow malfunction warning lights include:

Check Engine: A yellow light that looks like a car engine in profile means there is a general problem with your vehicle. Schedule service as soon as possible.

Anti-Lock Brakes: A light that looks like the letters ABS inside of a circle and parentheses means your anti-lock brakes have stopped working. Your regular brakes should still be functional.

Tire Pressure: If the pressure in one or more of your tires gets too low, you will see a light that looks like an exclamation point inside a flat tire. Pull your Honda vehicle over and restore normal tire pressure.

Steering: A light that looks like a steering wheel next to an exclamation point indicates your power steering has failed.
Repair Your Honda Odyssey at Ray Price Honda
There are a variety of warning lights you may see in your Honda Odyssey. If you believe you need maintenance or have questions after reading this Honda Odyssey dashboard light guide, then there is no better time to bring your vehicle to the service and parts department at Ray Price Honda. 
Schedule a service appointment with the expert auto technicians today!
In addition to an experienced service and parts department, Ray Price Honda offers consumers from East Stroudsburg, Stroudsburg, Bethlehem, Easton and Jim Thorpe with a great selection of new and pre-owned vehicles. 
Visit us today to receive the best dealership experience of your life!