When you're cruising around the streets of East Stroudsburg, Stroudsburg, Bethlehem, Easton and Jim Thorpe, the last thing you want to see is one of those pesky dashboard lights. 
What do your dashboard lights mean? Is something wrong with your vehicle? Well, you shouldn't have to wonder.
Take a look at our handy Honda HR-V dashboard light guide. With this guide, you'll know whether or not that annoying light means something is going horribly wrong, or if you just activated one of the HR-V's numerous features.
Become an expert on your car with our Honda HR-V dashboard light guide.
Car Warning Lights
It's important to know which dashboard warning lights require immediate action. These lights are usually red or yellow and indicate that something is wrong with your vehicle.
 Brake System: This red light appears as the word BRAKE, and indicates that either your brake fluid is low or that the brake system has a problem. You can always test the brake pressure yourself by simply pressing the brakes. If there is a problem, get your vehicle serviced right away.
 
 Supplemental Restraint System: If you see this light on, avoid sudden stops, if you can. It means the airbag systems and/or seat belt tensioners are malfunctioning.

 
 Malfunction Indicator Lamp: This is the dreaded check engine light and looks like an engine block. If it stays on, your fuel cap could be loose, or your emissions control system might be  faulty. If it's blinking, your engine misfired, so you should stop and let your engine cool down.
 
 Anti-lock Brake System: This light appears as a yellow circle with the letters ABS inside, and indicates that your anti-lock brakes aren't working.
 
 Vehicle Stability Assist: Appearing as a car with curved tread marks behind it, this light indicates that the VSA or Hill Start Assist system is malfunctioning.
 
 Electric Parking Brake System: This light consists of a yellow circle surrounding the letter P, and an exclamation point to the right of the circle. It means that your electric parking brake isn't working.
 
 Electric Power Steering: If you see a yellow light of a steering wheel followed by an exclamation point, it means your power steering isn't working and steering may be very difficult. Restarting the vehicle can help, but you should get it inspected and fixed regardless.
 
 Engine Temperature: This light appears as a thermometer submerged in liquid. If it's red, your engine is too hot. If it's blue, your engine is too cold.
On/Off Indicators
Not every light is a bad thing. Some lights just mean you've activated a feature. These are typically green.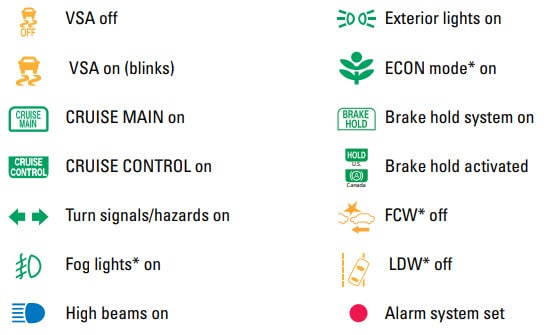 Browse the services areas we are proud to serve. 
When you need a Honda dealer near me, Ray Price Honda should be your first stop!
Visit Ray Price Honda Today!
If you're unfortunate enough to get hit with one of the serious malfunctioning lights, take your Honda HR-V to the service center at Ray Price Honda. Our service professionals know the Honda HR-V inside and out, and will have it back on the road in no time. Visit or call us to schedule your service appointment today!