Compact SUVs like the new Honda CR-V and Nissan Rogue strike a desirable balance between peppy performance, family-approved space, and flexible utility. For those seeking a daily commuter with added capability or a safe family mover, the CR-V and Rogue make great travel companions.
However, which compact SUV has it all when it comes to your driving needs? Our team at Ray Price Honda decided to give you a closer look at these two modern rides with the following head-to-head comparison.
Honda CR-V vs Nissan Rogue: Interior & Utility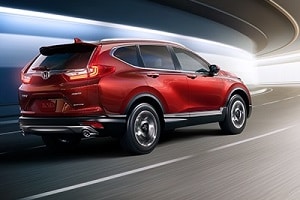 For errands in Easton, carpooling from Scranton to Bethlehem, and camping trips around East Stroudsburg and Stroudsburg, these SUVs are more than up to the task. Inside, you'll find cavernous 5-seat cabins allocating over 40 inches of legroom to the driver and co-pilot.
In the rear seat, the CR-V and Rogue offer a bit of a different ride experience. The Honda CR-V makes room for back-row passengers to enjoy just as much stretch-out space as those up front with an impressive 40.4 inches of rear legroom. To compare, the Rogue has just 37.9 inches of back seat legroom, which tall passengers may notice.
Learn more about this expertly engineered vehicle in our Honda CR-V review and discover if it's right for you.
SUV Performance
Now that we've unpacked the interior of the Honda CR-V and Nissan Rogue, it's time to check out what they've got going on under the hood.
The Honda CR-V has two engine options available: a 2.4L four-cylinder motor that delivers 184 horsepower, as well as a more potent turbocharged 4-cylinder version that increases acceleration to up to 190 horsepower. 
Unfortunately, the Nissan Rogue has just one engine, a 2.5L 4-cylinder that produces only 170 horsepower. 
If you're seeking power for highway passing or picking up the pace on hilly terrain, extra power is a definite perk.
Both the CR-V and Rogue rely on continuously variable transmissions to put power down to the wheels and come in your choice of front-wheel or all-wheel drive formats.
Honda vs Nissan: Safety Tech & Cargo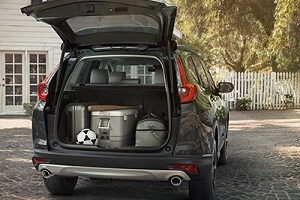 Advanced driver assistance technology can help increase your visibility while on the road and, in turn, aide you in making sound judgements. The CR-V and Rogue make these cutting-edge systems standard, including radar-based technology that can automatically apply the brakes should it detect a potential collision.
Another crucial area to consider in your next SUV is the cargo area. Thankfully the CR-V and Rogue manage to keep expansive cargo space. Bulky items from strollers to furniture all have a place with 75.8 cubic feet in the CR-V and 70 cubic feet in the Rogue-though, families will appreciate being able to fit a few more items in the CR-V with that extra 5.8 cubic feet.
Honda CR-V vs Nissan Rogue
The Honda CR-V and Nissan Rogue are talented vehicles for traversing East Stroudsburg, Bethlehem, Easton and Jim Thorpe. However, if getting the most out of your travels calls for extra cabin space, ample power, and a large cargo hold, the CR-V is one ride you'll want to explore further.  
Stroudsburg, PA, area drivers can sign up to get behind the wheel of the Honda CR-V at their local Honda dealer, Ray Price Honda, today!
Related Post: Honda CR-V EX vs EX-L Comparison