Dashboard symbols are an essential, if frustrating, part of your car's intelligence. That's right; your car has a brain that's formed from a number of computer and electronics systems that all work together in a delicate balance. When a system is working and engaged, or when something's wrong, your car needs to communicate that with you, and it does it from dash lights.
Unfortunately, these lights aren't always intuitive or clear. While you're on the roads of East Stroudsburg, Stroudsburg, Bethlehem, Easton and Jim Thorpe, you need to understand any indicators that crop up. Check out this easy and quick Honda CR-V dashboard light guide to demystify some of the most common indicators you might encounter as you drive.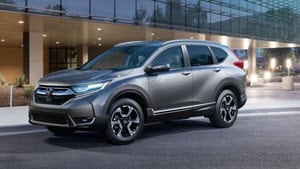 There are two essential categories of indicators our Honda CR-V dashboard light guide will cover: malfunction indicators that let you know there's a serious issue with your car's systems, and condition indicators which let you know you need to take a certain action. Let's look at both categories.
Malfunction Indicators
When you see one of these lights, take action immediately. It could be dangerous to drive your car, or at very least, you risk damaging the vehicle.
Oil Pressure: If you see a light that looks like an oil can or oil lamp that's leaking, it means your oil pressure is low and you need to add oil, and get it to a dealership for service.
Malfunction Light: Also called the Check Engine light, this picture of a car engine means anything from a loose fuel cap to a major malfunction in your systems. Tighten your fuel cap and get it in for service.
AWD Light: If you see the letters AWD, your all-wheel drive system isn't functioning properly.
Electrical Systems: If you see a car battery it means your electrical systems aren't charging. It could be a bad battery, bad alternator or other aspect of your system.
Condition Indicators
When you see a condition indicator it's letting you know that you need to take some action, or there's a minor system issue.
Parking Brake: If the word BRAKE appears in all caps in red, it means either your parking brake is on, or there's a malfunction in your brake system somewhere. Disengage the parking brake and if the light doesn't go off, get your car in for service right away.
Transmission Temperature: If you see a thermostat inside of a gear, that's letting you know your transmission fluid is hot. Pull over and let your car cool down.
Maintenance Reminder: A yellow wrench lets you know you're due for regular maintenance.
Tire Pressure Monitor: A horseshoe-like symbol with an (!) inside of it lets you know one or more tires is low on air pressure. Check the pressure and add as needed.
You can learn more about this expertly engineered vehicle in our 2018 Honda CR-V review.
Get Service at Ray Price Honda
If you're in the areas of East Stroudsburg, Stroudsburg, Bethlehem, Easton and Jim Thorpe, and you see the lights covered in this Honda CR-V dashboard light guide, or any other indicators, stop into Ray Price Honda and let our service center take care of the problem today.