Deciding on the right pickup truck to help with your workload across the East Stroudsburg, Arlington Heights, and Marshalls Creek areas is important. There are the obvious choices out there, but have you ever considered the Honda Ridgeline? This truck has started converting even the most ardent Ford and Chevy fans, but how would it work for you?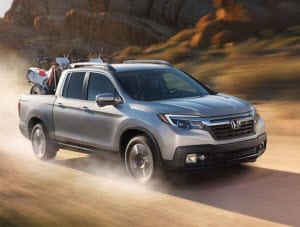 To help get to the bottom of this question, we'll provide some important details. We'll focus this article on engine performance, abilities and capacities, and entertainment and technology features. Reading this review will give you a better idea of what the 2017 Honda Ridgeline can do. You may even decide that it's a truck worth checking out.
2017 Honda Ridgeline Engine Performance
The Honda Ridgeline delivers a strong race for its competitors with its 3.5L V6 engine. This vehicle features a 6-speed automatic transmission. When pushed, this engine allows the Honda Ridgeline to reach 280 horsepower with 262 lb-ft of torque. This vehicle also features Hill Start Assist. This feature prevents the vehicle from rolling back when you're stopped on an incline.
Abilities and Capacities
When selecting your next pickup, the vehicle's abilities are some of the most important factors to consider. The Honda Ridgeline can tow 3,500 pounds. When equipped with all-wheel drive, the towing capacity can reach 5,000 pounds. When it comes to payload, this truck can carry 1,465 pounds in its 5.3 feet-long bed. However, with all-wheel drive, the payload ability increases to 1,584 pounds.
Entertainment and Technology Features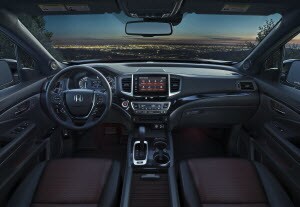 A pickup truck can be many things, but one thing it shouldn't be is boring. The Honda Ridgeline certainly strays far away from dull with its features and amenities. The Honda Ridgeline is outfitted with a 7-speaker sound system that includes a subwoofer to deliver great audio and powerful bass. This system features Speed-Sensitive Volume Control, which will actively adjust the volume level if the engine is performing too loud and interfering with your listening pleasure.
This vehicle also features a Bluetooth® system you can access with the 5-inch color LCD screen. Bluetooth® lets you stay connected to family, friends, and coworkers while navigating the roads. It can also be used to stream audio entertainment from your smartphone.
Test Drive the 2017 Honda Ridgeline
By reading this article, you learned a great deal about the 2017 Honda Ridgeline. You saw this pickup truck features a powerful engine that can reach a high horsepower. You also learned all about this vehicle's abilities and capacities, and how opting for all-wheel drive can increase the towing and payload capacities.
We showed you the entertainment and technology features. You saw the Honda Ridgeline is equipped with a great sound system, and offers a versatile Bluetooth® system that allows for hands-free communication and music streaming. Overall, you learned this pickup truck has what it takes to handle your workload.
Learn more about the 2017 Honda Ridgeline by scheduling your test drive with us at Ray Price Honda-the dealership that proudly serves drivers from the East Stroudsburg, Arlington Heights, and Marshalls Creek areas.