The team at Ray Price Honda is excited to announce to our customers in the East Stroudsburg, Bethlehem, and Jim Thorpe areas, that the 2018 Honda Accord and Civic Type R were voted as 2018 AUTOMOBILE All-Stars.1, 2 These are two of our team's top picks, as well, for drivers in the Stroudsburg and Easton areas.
Learn more about these awards and the features that helped each of these cars win.
What Are the AUTOMOBILE All-Stars?
Every year, a team from Automobile magazine tests out some of their favorite cars on a closed course near Las Vegas. These cars are tested for speed, handling, and overall performance, as well as how well they deliver an experience that's true to their original intent.
Regardless of class, only a couple dozen cars are invited to the annual shootout, and only eight leave with the title of "All-Star." With only eight cars winning this distinction every year, it's truly remarkable that Honda took two of these coveted spots with the Honda Accord 2.0T Sport and Honda Civic Type R.1, 2
2018 AUTOMOBILE All-Star: Honda Accord 2.0T Sport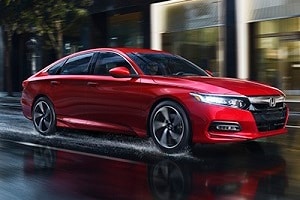 The Honda Accord 2.0T Sport trim was praised at the AUTOMOBILE All-Star shootout for its 2.0L turbocharged engine that delivers 252 horsepower and 273 lb-ft of torque.1
It's paired with a standard 6-speed manual transmission that switches gears fast. A clean-shifting 10-speed automatic transmission is also available with optional steering wheel-mounted paddle shifters that let you take control when desired.
In addition to the engaging driving dynamics, the judges liked the spacious interior of the Honda Accord, making it a comfortable, albeit engaging, commuter sedan. In the driver's seat, you'll have 29.5 inches of headroom and 42.3 inches of legroom. In the trunk you'll also have 16.7 cubic feet for all the essentials.
Contact us to learn more about the Honda Accord!
Honda Civic Type R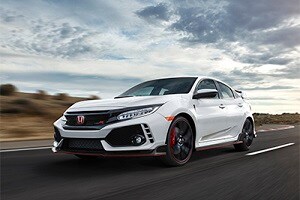 The Honda Civic Type R was unanimously enjoyed by all testers at the 2018 AUTOMOBILE All-Star shootout with its 6-speed manual transmission, featuring nicely-spaced gear ratios and fast shifting capabilities.2
Under the hood, it's got a 2.0L VTEC® turbocharged engine that puts out 306 horsepower and 295 lb-ft of torque. With a lightweight chassis over a dual-axis strut front suspension, this car approaches turns nimbly and swiftly, while a Limited Slip Differential provides tight cornering control.
Another standout feature is the three available drive modes that allow you to take your Civic Type R from the office to the track with ease.
Comfort mode smooths out the suspension-so you are less surprised by bumps in the road-and softens the throttle response. Sport mode balances sportiness with everyday driving. Meanwhile, +R mode is race-ready, enhancing responsiveness and steering for a lively driving experience.
Contact us for more information on the Civic Type R!
Test Drive These 2018 AUTOMOBILE All-Stars
If you want to see for yourself why the 2018 Honda Accord and Civic Type R were voted as '2018 AUTOMOBILE All-Stars,' come to Ray Price Honda near East Stroudsburg and Bethlehem and we'll get you behind the wheel.1, 2
Drivers near Stroudsburg, Jim Thorpe, Easton, or other surrounding areas can contact us to schedule a test drive today!
1The 10th-generation Accord has been named an AUTOMOBILE All-Star for its no-compromise package, including ample interior space, engaging powertrain, agile driving dynamics and brilliant engineering.
2Civic Type R has been named an AUTOMOBILE All-Star. Featuring a VTEC turbo® engine, short-throw 6-speed manual transmission, limited slip differential and an Adaptive Damper System, the "Civic Type R is the most powerful Honda ever sold in America."