Drivers in the East Stroudsburg, Stroudsburg, Bethlehem, Easton and Jim Thorpe areas want the best from their cars. They must be reliable and spacious to facilitate drivers' expectations. Few vehicles fit their needs better than crossover SUVs, and few crossover SUVs serve better than the 2017 Honda CR-V.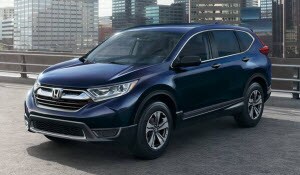 Have you been thinking about upgrading to a crossover SUV? Ray Price Honda is excited to showcase the impressive 2017 Honda CR-V, just for you. Explore the many features the Honda CR-V has to offer and discover if the Honda CR-V is the ideal vehicle you've been looking for.
Designed to be the Best
For 2017, the CR-V has been redesigned. Its stunning new look outperforms previous, gorgeous CR-V models. The CR-V features an active shutter grille, increasing aerodynamics for the vehicle. The LED lights in the front and rear of the CR-V offer stunning aesthetics and optimization of the vehicle's electrical systems. Every inch of this machine was purposely crafted to give it an edge.
Most impressive is the vehicle's sheer size. Significantly smaller than competing crossover SUVs, the CR-V still triumphs in terms of cargo space. With an overall length of 180.6 inches, a width of 73 inches and height of 66.1 inches, the CR-V boasts a whopping 75.8 cubic feet of cargo space with the rear seats collapsed. If you leave the rear seats up, it can carry 39.2 cubic feet of cargo. This puts the CR-V at the highest in its class for cargo space, and no other crossover SUV can match that amount in such a small size. In short, it's among the smallest crossover SUVs but still contains the largest cargo space without sacrificing passenger comfort.
The Convenience You Deserve
If you are in the market for a crossover SUV, there is a chance you need to fill those four extra seats with friends and family. Organizing that can be stressful enough, so your vehicle should be the least of your worries. Fortunately, the CR-V offers one of the most convenient drives you can get. With a quiet cabin and comfortable seats, the CR-V can relax you even during your most taxing moments.
The seats aren't just soft, however - they are specifically designed with lumbar support and power adjustments. If that's not good enough for you, they are heated as well. Heated seats come standard in all but the base model. If you're worried about the steering wheel, that's heated too. You and your passengers also benefit from the CR-V's Dual-Zone Automatic Climate Control. If you like it cold while your passenger likes it warm, then you can easily adjust the temperature levels until you both are comfortable, ideal for long drives in any season.
Keeping You Safe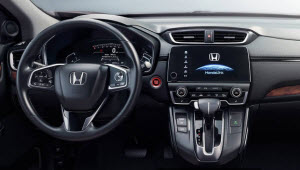 Friends and family traveling in your vehicle expect to arrive at their destinations safely. No one wants to hitch a ride in a junker. Fortunately, the CR-V sits easily on the opposite side of the spectrum. This premium crossover SUV excelled in crash tests, receiving a perfect five stars overall. A perfect five-star rating overall sets it apart from some of its most popular competitors, but the safety advantages don't end there.
Passing crash tests is just the beginning for the CR-V. In addition to its seven airbags, the CR-V features anti-lock brakes that make stopping effortless. Electronic stability control and the rollover protection system keeps the CR-V firmly in your control. The sensors mounted around the vehicle can also alert you if you're exiting your lane without signaling, of objects in your blind spot, and adaptive cruise control can slow you down when vehicles are detected ahead. All of this and more is part of the Honda Sensing Safety Suite, which comes standard on all CR-V trims EX and up.
A Stellar Performance
Extra features are nice to have, but the most important part of any vehicle is how it feels to drive. The CR-V delivers excitement and so much more. It packs a surprising punch for its size with 190 horsepower - this sets it higher than most of its competition, which often struggles to surpass 170 horsepower. The CR-V's capability coupled with its compact size makes driving around the city a blast. Rounding tight corners is a breeze, but for long highway rides, the CR-V still offers a smooth quiet journey. It manages to do all this very efficiently with an EPA-estimated combined 29 mpg fuel economy on its base model.
Continuing to break expectations, the CR-V also possesses useful towing functions. When you want to tow something, you might consider a truck or a full-size SUV, but the CR-V might surprise you by handling the job, depending on how much you need to tow. With a maximum towing capacity of 1500 pounds, the CR-V ranks among the highest of crossover SUVs in that category.
Test Drive the 2017 Honda CR-V Today
From comfort to storage, the benefits of crossover SUVs are evident, and the 2017 Honda CR-V might be the best among them. Its small size makes driving a breeze, even through tight city streets, but cargo space isn't sacrificed, with an efficient fuel economy and convenient features to boot. Topped with the Safety Suite and extra tech built-in, the CR-V could arguably be the best crossover SUV on the market. You'd have to go full size SUV to surpass what the Honda CR-V has to offer.
If you're thinking about upgrading or learning more about the incredible Honda CR-V, come to Ray Price Honda. Drivers in the East Stroudsburg, Stroudsburg, Bethlehem, Easton and Jim Thorpe areas are invited to experience the CR-V for themselves by joining us for a test drive.
Our expert team is committed to finding the perfect car for you, whether it is the stunning CR-V or something else in our expansive inventory. Visit Ray Price Honda or call us to schedule your test drive today!