Welcome to the Ray Price Honda vehicle comparison library. As a Honda dealer to drivers in the East Stroudsburg, Arlington Heights, and Marshalls Creek areas, we try to go above and beyond in being as helpful as possible. We know that research is one of the most important factors when actively searching for your next car. One of the best ways to conduct research is by comparing different models to see which one offers more. That's where we come in.
Our Vehicle Comparisons
If you have a certain model in mind, whether it's a sedan, SUV, truck, or crossover, you'll want to know where it stands in the automotive market. These vehicle comparisons are a great way to learn about the similarities and differences between your favorite models. You'll see how Honda vehicles compare to the competition in an informative and detailed article.


How Are These Articles Helpful?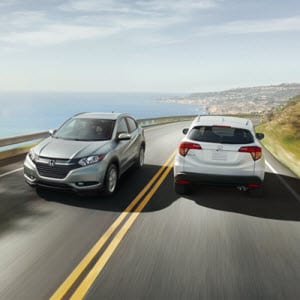 These articles are designed to help drivers like you who are trying to make a decision regarding their next car. You may be torn between two different vehicles and therefore having a tough time figuring out which one is better. Our vehicle comparisons can help you.
In these comparisons, you'll learn a great deal on how your favorite models measure up to each other. You'll learn how they compare in performance, power, comfort, amenities, and safety. By reading these articles, you'll learn which vehicle offers more in each respective category.
Do I Need These Pages?
Our vehicle comparisons aren't required reading. They're simply here as a valuable resource of information to drivers who are seeking their next car. However, these articles can be really helpful if you're in the market for a new car. All you need to do is locate the vehicle you're interested in on this page, click, then learn how it stacks up to a similar vehicle from a different automotive manufacturer. By doing the research, you can make the most informed decision toward your next car.
If you have any questions about our lineup or vehicle comparisons, contact us at Ray Price Honda-your go-to source for quality vehicles and information in the East Stroudsburg, Arlington Heights, and Marshalls Creek areas.